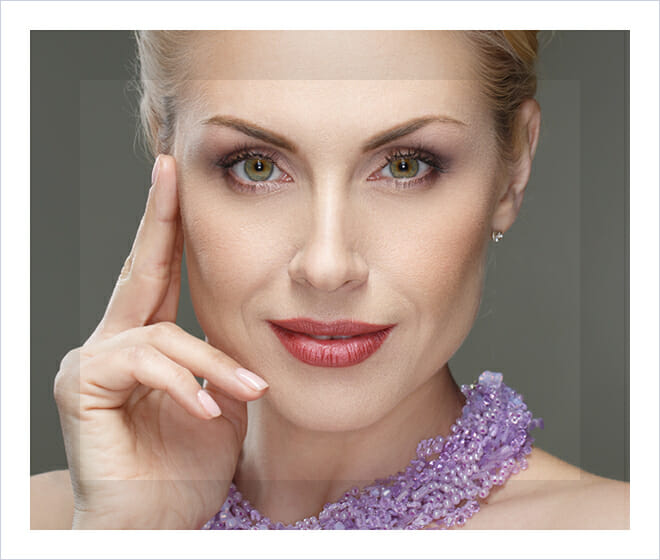 Serving Mountain View & the Bay Area
Many people feel their nose does not fit the rest of their face. Their complaints may range from thinking their nose is too large to feeling their nose is abnormally shaped. Whatever the complaint, these feelings can cause a person to feel self-conscious and insecure. We can help. We specialize in rhinoplasty, or nose reshaping, at Pearl-Ereso Plastic Surgery Center in Mountain View. Our mission is to give everyone the beautiful nose they deserve and the confidence boost they long for.
The goal of rhinoplasty is to reshape your nose so it complements your other facial features. If you have breathing problems because of irregularity in the internal structures of your nose, adjustments can be made to improve your nasal airway. This can be done at the same time as alterations to the external appearance of your nose.
Ideal Rhinoplasty Candidates
Rhinoplasty can be performed on men and women of almost any age. However, it's usually recommended that young people wait until facial growth is complete – about age 15 or 16 for girls and 17 or 18 for boys. If you are a teenager, having the procedure should be your own idea. Additionally, as long as you are in good health, there is no upper age limit for nose reshaping.
You may be a good candidate for rhinoplasty if you have any of the following conditions:
Your nose appears too large for your face
There is a bump or depression on the nasal bridge when viewed in profile
The nose seems to wide when viewed from the front
The nasal tip droops or plunges
The tip is thickened or enlarged
The nostrils are excessively flared
Your nose is off-center or crooked
A previous injury has made your nose asymmetrical
You have an airway obstruction that impairs breathing
Your Personal Rhinoplasty Consultation
A personal consultation is the first step. Dr. Ereso will assess your physical and emotional health and discuss your specific cosmetic goals for rhinoplasty surgery.
You should arrive at the consultation prepared to provide complete information about:
Previous surgeries
Past and present medical conditions
Treatments you have received
Medications that you are taking, including nutritional supplements and herbal remedies
At our plastic surgery center in Mountain View, we utilize state-of-the-art technology in all cosmetic procedures, which aids the doctor's accuracy and guarantees you receive the results you have envisioned. At your initial visit, Computerized Imaging will be performed, allowing you and Dr. Ereso to preview potential changes to the appearance of your nose. Computer imaging has been an invaluable communication tool in helping you to achieve your desired result. Occasionally Dr. Ereso will recommend the addition of a chin implant or cheek implants to give you a more balanced facial appearance.
Rhinoplasty Procedure
Reshaping generally is done through incisions inside your nose. In some instances, there may also be an incision on the underside of your nose between your nostrils. If the base of your nose will be narrowed or the flair of your nostrils will be reduced, this can be done by removing small wedges of skin at the base of your nostrils. The resulting scar will fade and ultimately should be barely visible. Your nose can be reduced, or built-up, by removing or adding bone and cartilage to the support structures. Your skin and soft tissues will assume their new shape over this "scaffolding."
San Jose Bay Area residents looking to benefit from the rejuvenating effects of rhinoplasty, contact our private plastic surgery practice.
Rhinoplasty Recovery
After surgery, some discomfort, swelling, and bruising can be expected. You will have nasal packing for 2-3 days and a plaster splint for 3-5 days. Frequently, our rhinoplasty surgeon will give you instructions for taping your nose at night for 2-3 weeks to decrease swelling. You can begin wearing cosmetics as soon as it is removed. Your routine will be severely restricted for only a day or two, but it will be a few weeks before you can resume bending, lifting, and exercise. As long as your job does not involve activities that raise your blood pressure, you should be able to return to work within 5-10 days. Minor swelling of your nose may persist for up to a year, but most likely this will not be noticeable to others. The final results of rhinoplasty are permanent and well worth the wait.
Avoid straining, bending and lifting during the early postoperative period. You may resume most of your normal activities within ten days or less.
Rhinoplasty Results
Our rhinoplasty patients have been very pleased with their improved appearance. Your more balanced nasal appearance will be long-lasting. As mentioned, the healing may take some time, yet you can expect the end results to be worth the wait. Occasionally, small irregularities will require secondary procedures to help you achieve the desired results.
Even though the aging process continues, patients are usually very happy with their appearance for many, many years. Some rhinoplasty patients find that they want to make additional improvements including having a facelift or brow lift at a later time.
To set up a rhinoplasty consultation, San Jose Bay Area residents can contact our private plastic surgery practice located in Mountain View.