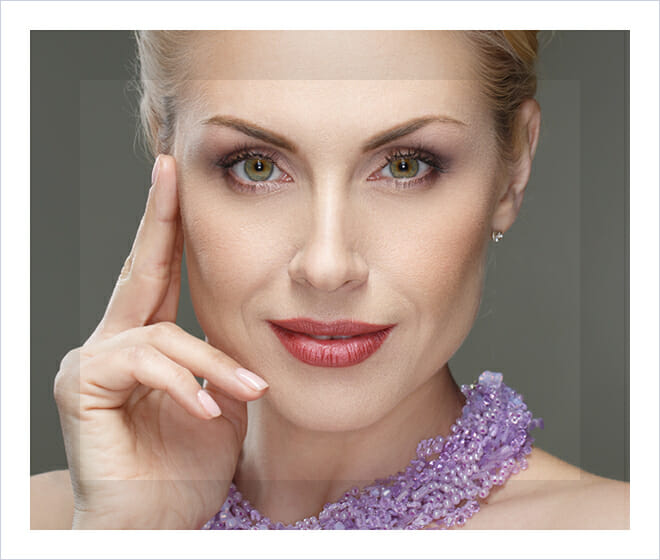 Serving Mountain View & the Bay Area
Dr. Alexander Ereso is pleased to offer traditional laser skin resurfacing and advanced Fraxel® laser skin resurfacing.
Your Personal Consultation
During a laser skin resurfacing consultation with our plastic surgeon, your physical and emotional health will be evaluated and we will discuss your specific cosmetic goals. Dr. Ereso will determine whether traditional laser skin resurfacing or Fraxel® laser skin resurfacing can more effectively meet your needs. Both techniques have been used to treat our patients.

You should arrive at the consultation prepared to provide complete information about:
Previous surgeries
Past and present medical conditions including Accutane treatment for acne
Treatments you have received
Medications that you are taking, including nutritional supplements and herbal remedies
Fraxel® Dual 1550/1927 Laser Skin Resurfacing
We are excited to be one of the first practices in the San Jose Bay Area to offer Fraxel® laser skin resurfacing to our patients. This revolutionary innovation allows the areas treated to exhibit better skin texture, more even pigmentation, less wrinkling and fine lines, as well as some tissue tightening. It is Dr. Ereso's treatment of choice for age spots, especially on the face and hands, as well as melasma and freckling. There is minimal "down" time (1-2 days of mild redness), and Fraxel® laser skin resurfacing does not require general anesthesia or intravenous sedation.
What to Expect
We ask that you arrive at the Pearl-Ereso Plastic Surgery Center one hour prior to your scheduled treatment. A topical anesthetic will be liberally applied to the planned treatment areas. This will be removed approximately 45 minutes later. A blue vegetable dye will then be applied to the skin, followed by additional local anesthetic ointment. The blue color helps the Fraxel® laser "recognize" the proposed areas for treatment. The laser will then be used to thoroughly treat all of the planned areas. You will feel some heat during Fraxel® laser skin resurfacing, which will be minimized by a chilled spray applied to the treated sites. Redness and some stinging follow. Iced compresses and elevation significantly reduce discomfort. Redness usually disappears in several hours but may last for 1-3 days. Normal activities may usually be resumed in less than 24 hours.
How the Technology Works
The Fraxel® laser treatment concept is ingenious. For every square inch of treated area, only approximately 30-50 percent or "fractions" of the tissue is actually exposed to the laser light producing heat and tissue changes to the deeper structures without injuring the skin surface. Most of the area surrounding the lasered tissue is left undisturbed allowing for rapid healing and minimum downtime. You should expect to see improvement in the texture, color, and fine lines in the treated areas over a period of 1-3 months. Usually, 4-5 treatments are required to achieve the desired results and clinical improvement may not be apparent until 2-3 treatments have been completed. The treatments may be spaced 1 to 4 weeks apart.
What Areas Can Be Treated
One of the most exciting aspects of Fraxel® laser skin resurfacing is that almost any area of the body can be treated. Typically, an entire face, neck, and chest can be treated in one session. The hands and entire upper extremity can be treated, as well as the legs, ankles, and feet! Another fabulous advantage of the Fraxel® laser skin resurfacing is that skin of "all colors" may be treated, including Asian, Mediterranean, Hispanic, African-American, and Caucasian!
The full potential of Fraxel® laser skin resurfacing has not yet been fully unleashed. For patients who are seeking more comprehensive skin treatment, please contact our Mountain View cosmetic plastic surgery practice to obtain more information about this exciting new treatment as well as Restylane® and JUVEDERM®.
Traditional Laser Skin Resurfacing
In addition to Fraxel® laser treatments, Dr. Ereso also offers traditional laser skin resurfacing procedures. Schedule a personal consultation to help determine which procedure is best for your needs.
Ideal Laser Skin Resurfacing Candidates
You may be a good candidate for a laser skin resurfacing if you have any of the following types of conditions:
You have a light complexion, burn easily and have many fine facial lines
You have deep lines around your lips and eyes
You have moderate wrinkling at rest with or without splotchy pigmentation
The Laser Skin Resurfacing Procedure
Laser skin resurfacing provides significant and long-lasting improvement of sun-damaged, unevenly pigmented, or coarsely wrinkled facial skin. Usually, you will undergo a single procedure rather than the series of treatments commonly recommended for Fraxel® laser skin resurfacing and other milder revitalizing techniques. It is not uncommon to have a second resurfacing treatment one or more years after your initial procedure.
The laser is effective in treating wrinkles, blotchiness or age spots, and scars from acne or other causes. It can be used on the entire face or specific areas. The laser also has a mild tightening effect on the skin, particularly in the lower eyelid area. There are a variety of lasers in use today. Dr. Ereso predominantly uses Erbium lasers to obtain the best results.
Dermabrasion uses a small, rapidly spinning wheel with a roughened surface similar to fine-grained sandpaper to abrade the skin, removing its upper layers. This resurfacing technique is well suited for the treatment of facial scars or vertical wrinkles around the mouth. The treated areas usually will blend well with the surrounding skin so there is little if any noticeable difference in pigmentation.
Recovery
A few days following laser skin resurfacing or dermabrasion, your new skin emerges. Usually, initial healing takes place in 4-8 days. The skin's pink color will fade over the next few months and, in the meantime, may be covered by makeup. In most cases, you should be able to return to work within a week or two.
Contact Our Practice for More Information on Laser Skin Resurfacing and Fraxel® Treatments
We invite you to learn more about laser skin resurfacing procedures, including Fraxel® treatments, by contacting our San Jose Bay Area plastic surgery practice today.