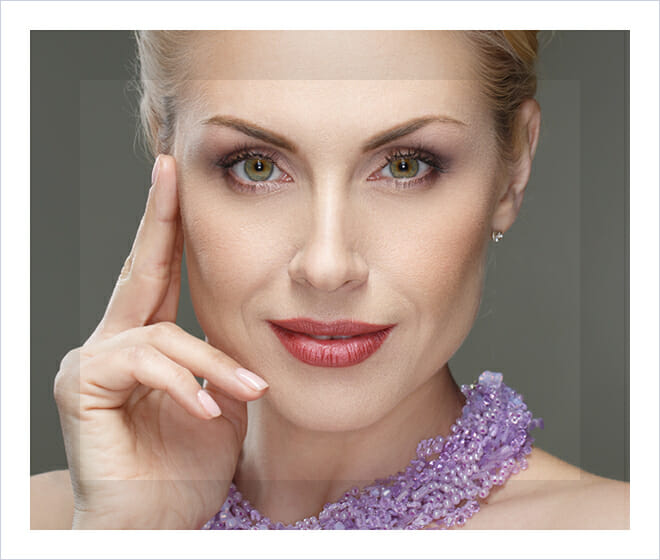 Serving Mountain View & the Bay Area
We offer less invasive facial rejuvenation procedures compared to a facelift, such as hyaluronic acid treatments in the form of Restylane® and JUVÉDERM™ replacement therapy to San Jose Bay Area residents who desire a rejuvenated, youthful face but do not need major surgical correction. Restylane®. Perlane®, JUVÉDERM™ and JUVÉDERM™ Ultra XC replacement therapy is useful for the treatment of smile lines, frown lines and for improving the fullness of your lips. It can also be used to improve hollowness around the eyes, brows and cheekbones, as well as improve the jawline and chin. It is an excellent way to treat small depressions and irregularities after rhinoplasty and to improve shallow soft tissue depressions that have occurred after trauma or acne. Because hyaluronic acid fillers are complex sugars not derived from animal origin, there is an exceptionally low risk of allergic reaction and pretreatment testing is unnecessary. Prior to receiving treatment, all patients undergo a thorough consultation at Pearl-Ereso Plastic Surgery Center. Dr. Alexander Ereso will explain the Restylane®, Perlane® or JUVÉDERM™ injection procedure, answer any questions you may have and determine if it is the appropriate course of action for your particular case.
Ideal Restylane® and JUVÉDERM® candidates
You may be a good candidate for Restylane®, Perlane®, JUVÉDERM® and JUVÉDERM® Ultra XC replacement therapy if you have the following conditions:
You have early smile lines or desire fuller lips
You have deeper smile lines, but still have reasonably good skin tone
You have hollowness around the eye, especially beneath the lower eyelids (the tear trough deformity)
You desire a fuller elevated lateral brow
You have early jowl formation, but do not require a face or neck lift.
You desire a subtle increase in your cheek or chin volume
You desire a fuller higher bridge of your nose
You desire to increase the fullness over the back of your hands
Your Personal Restylane®/JUVÉDERM® (Hyaluronic Acid) Consultation
A personal consultation with Dr. Ereso is the first step to assess your physical and emotional health and discuss your specific cosmetic goals. We will then determine with your assistance if you are a good candidate for Restylane®/JUVÉDERM® replacement therapy. Remember, unlike older bovine collagen treatments, pre-testing is not necessary!
To start down the path to a younger, refreshed face, call our team of knowledgeable, experienced professionals at our complete ambulatory cosmetic plastic surgery facility in Mountain View. For patients who want smoother, more luminous skin, Dr. Ereso may also suggest Fraxel® laser skin resurfacing.
Treatment, Recovery, and Results after Restylane®/JUVÉDERM® Replacement Therapy
Hyaluronic acid is a ubiquitous complex sugar that is an important component of joint fluid, articular cartilage and skin, especially where it is involved with tissue repair.
It is important to understand that unlike the older collagen (Zyplast and Zyderm) treatments, there is more discomfort placing JUVÉDERM® and Restylane® in the facial tissues. Comfortable treatment with hyaluronic acid fillers requires locals anesthetic block of the surrounding tissues prior to treatment, especially around the smile lines and lips. This numbness will last approximately 1.5 hours and will be frequently associated with an asymmetric smile.
It is important to immediately place ice over the treated areas to minimize bruising and swelling. We also recommend the use of ARNICA, a homeopathic remedy that can be taken by mouth and topically, to reduce bruising. Post-treatment irregularities, redness, bruising and swelling varies widely, but typically lasts 1-3 days, although occasionally it lasts 1-2 weeks. Reducing anti-inflammatory medication such as ibuprofen (Motrin. Advil, Nuprin), naprosyn (Aleve) and aspirin as well as not taking Vitamin E supplement ( 400 I U), may reduce the amount of bruising. You should not plan an intense physical workout the day of the procedure. Important business and social engagements should not be scheduled for 1-3 days after treatment.
An 8-12 month improvement in areas that are less dynamic (cheeks, around the eyes, nose, jawline and the back of the hands) is not uncommon. In the dynamic areas around the lips and smile lines, a 4-6 month correction is the norm. The more recently FDA-approved "thicker" Perlane® and JUVÉDERM® Ultra XC is especially good for deeper smile lines and other deeper depressions.
Schedule a Restylane®/JUVÉDERM® Consultation at Our Practice
To learn more about hyaluronic acid-based Restylane®, Perlane®, JUVÉDERM® and JUVÉDERM® Ultra XC replacement therapy, contact our cosmetic plastic surgery practice today!