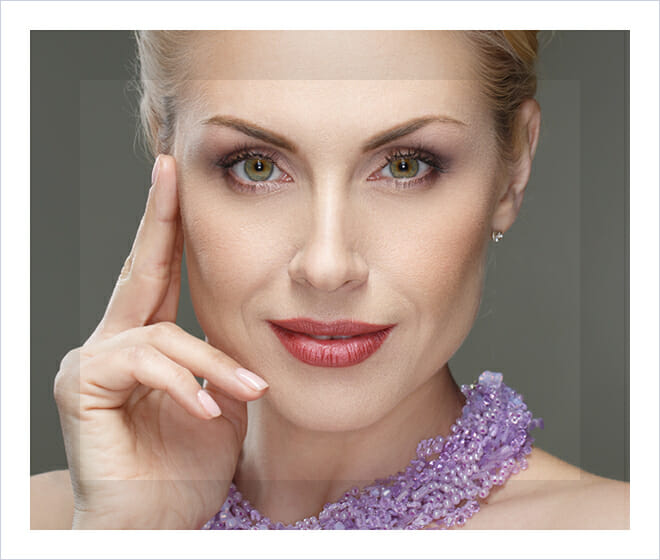 Serving Mountain View & the Bay Area
Facial Rejuvenation
In addition to a variety of non-surgical facial cosmetic treatments, Dr. Alexander Ereso also gives patients the option of filling wrinkles, lines and sunken areas around the cheeks, brows and under the eyes with their own fat in a microstructural fat grafting procedure. For years, our team has been using this fat grafting technique at our Mountain View practice and we are convinced that this type of replacement of soft tissue can produce the most dramatic improvement in the face and other areas of the body.
Microstructural fat grafting performed at the time of facelift, neck lift, eyelid surgery and browlift has become a routine part of facial rejuvenation. In younger, well-selected patients, fat grafting can be performed as a standalone procedure. Used as a soft tissue filler, fat provides a natural look and feel and can help recreate a youthful appearance around the eyes, cheeks, brows jawline, and chin. It can also be used to enhance the lips and reduce and soften smile lines.
As we age, fat atrophies, particularly in the face. Adding facial volume to the aging face is an important part of producing a beautiful youthful appearance. Fat replacement to the back of the hands has been shown to reduce wrinkling and the appearance of bulging veins and prominent tendons. When combined with FRAXEL® laser treatments to reduce pigmentation and sun damage to the skin, significant visual improvement can be seen.

Your Personal Consultation
Dr. Ereso will discuss possible treatment with structural fat grafts during your initial consultation. Fat replacement therapy will require local anesthesia, usually with intravenous sedation, for your comfort, unless you are already having general anesthesia for an associated surgical procedure. Recovery time will be longer than treatment with other dermal cosmetic fillers, such as Restylane®, Perlane®, Juvederm™ and Juvederm Ultra XC. For more information about microstructural fat grafting in the San Jose Bay Area, contact our cosmetic surgery practice in Mountain View.
The Procedure

Usually, oral Valium will be given to you approximately one hour prior to the fat grafting procedure. Intravenously, additional Valium-like medications combined with narcotics and medications to reduce nausea and promote relaxation will be given to you for your comfort. Fat will be harvested from the thighs, flanks, buttocks, or abdomen, by hand, using 10cc syringes and blunt needles. Sixty to 120 cc's are usually obtained (two to four ounces). The fat is then centrifuged to remove the water and blood, followed by wicking fatty oils from the fat, leaving compacted yellow fat.
This fat is then aseptically transferred into one cc syringes to be placed in the deep tissues of the face with blunt needles. Four to five cc's of useable fat is retrieved from each 10cc syringe. The fat is layered and placed in multiple planes to improve its survival. A light dressing is usually applied and ice therapy is begun immediately to reduce pain bruising and swelling. One to two days after the microstructural fat grafting procedure, Dr. Ereso will see you at his office in Mountain View for a recheck evaluation.
Recovery and What to Expect
Swelling and bruising will occur but can be reduced by keeping your head elevated, applying iced compresses for three to five days or longer, and refraining from strenuous activity. Arnica applied topically and taken systemically with Bromelain has also helped recover more quickly. Five to 10 days of swelling is not uncommon.
Predicting structural fat graft viability with a long-term improvement is difficult, but it is realistic to think 30 to 40 percent of the fat placed survives, and what you see at three months after the procedure should hopefully last three years or longer. For ideal results, consideration should be given to having similar but smaller fat grafting procedures performed one to two more times in an 18-month period, to produce the best result.
Each patient is evaluated and treated individually. Individuals who are older or exhibit more lax tissues obtain a much better, longer-lasting, natural result if structural fat grafting is performed in concert with a modern lifting or tightening procedure. It is important to maintain or add volume to the aging face to obtain a youthful improvement.
Schedule a Fat Grafting Consultation
Our practice is proud to serve patients from throughout the San Jose Bay Area. We invite you to contact us to schedule a consultation with Dr. Alexander Ereso to learn more about the procedure, the recovery time, and the results that you can expect.