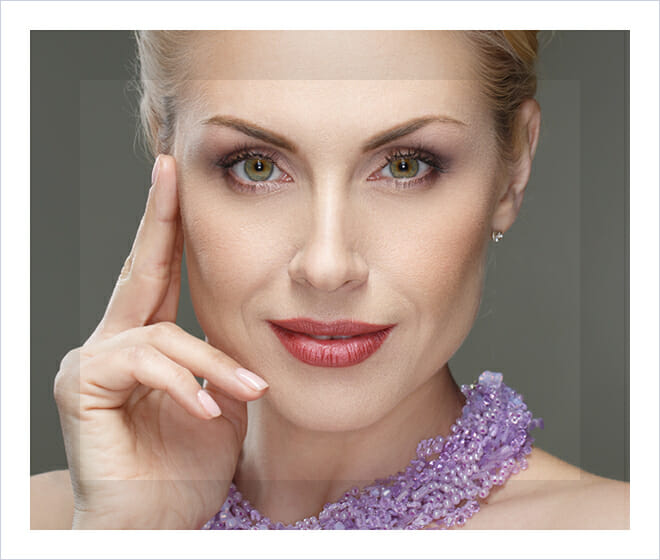 Serving Mountain View & the Bay Area
Age-related facial changes appear gradually; however, it may seem as if you age overnight when you suddenly look in the mirror and decide the face you see doesn't reflect the way you feel. A facelift can help you look as good as you feel. Also known as rhytidectomy, a facelift smoothes the loose skin on your face and neck by tightening underlying tissues and removing excess fat. Your face will appear firmer and fresher!
Your bone structure, heredity and skin texture play a role in how many "years" a facelift can "remove" and, to some extent, influence how long it will last.
You'll find basic information about a facelift on this website. However, a personal consultation with Dr. Ereso, who is certified by the American Board of Plastic Surgery, is the best way to get answers to your specific questions. To set up a facelift consultation, contact our plastic surgery center today.
Ideal Facelift Candidates
Facelifts are most commonly performed on patients in the 40-60-age range. The procedure can produce good results for people in their 60s, 70s and even 80s. You may be a good candidate for a facelift if you have any of the following types of conditions:
Loss of a well-defined jawline
Deep wrinkles in the cheeks and sagging skin near the cheekbones
Appearance of deep marionette lines
Loose skin, wrinkles or excess fatty tissue in the neck
A deep line that runs from the corner of your nose to the corner of your mouth
Facelift surgery needs to be approached with extra caution if you have any of the following medical conditions:
Uncontrolled high blood pressure
Diabetes
Blood-clotting problems
The tendency to form excessive scars
If you are a smoker
Please alert us if you are affected by any of these conditions.
If you believe you are a qualified facelift candidate, contact Dr. Alexander Ereso to set up an appointment in our beautiful Mountain View location.
Your Personal Facelift Consultation
A personal consultation is the first step. Dr. Ereso will assess your physical and emotional health and discuss your specific cosmetic goals for surgery.
If you are overweight and have a realistic desire to lose more than 15 pounds, your weight loss could affect your results. It's important to discuss these plans with Dr. Ereso and his staff.
During your physical evaluation, Dr. Ereso will assess your bone structure and the underlying facial tissues. The thickness, texture and elasticity of your skin and the severity of the wrinkles and folds will also be considered. Your hairline will be examined to determine where incisions can be discreetly placed. These factors will be considered in developing your personalized surgical plan.
Frequently other procedures can be performed along with a facelift to meet your appearance goals. For example, a facelift is frequently combined with:
A brow lift, to correct lines or furrows in the brow, elegantly elevates the lateral brow to produce a more artistic brow shape as well as improving frown lines and forehead creases
Eyelid surgery to correct bags beneath the eyes and excess skin and fat above the eyes
Skin surface treatments, such as laser resurfacing or dermabrasion, to minimize significant facial wrinkles
Microdermabrasion, micropeels and a complete skin care program under our expert and experienced aestheticians, Carol McDonald and Sonja Cody
If you feel you are an ideal candidate for the facelift procedure, you should call Dr. Ereso, an expert cosmetic plastic surgeon in San Jose, Mountain View, and the Bay Area.
The Facelift Procedure
The technique chosen for your surgery depends on your features, our surgical preferences and expertise, and your desired results. Extreme emphasis is placed on creating a natural result. Usually, the objective is to produce a better you, not a different person.
There are many variations to the facelift procedure. However, the incision is typically hidden in the natural contour of your ear and then extends around the earlobe and back into the hairline. Following surgery, the incisions are easily concealed by your hair or with makeup. There may also be a small incision hidden beneath your chin.
Working through these incisions, our plastic surgeon frees the facial skin from its underlying tissues followed by deep tissue dissection to your smile lines and nasal cheek juncture. The deep structures including the cheek pad are securely tightened in an upwards and backwards direction followed by excision of excess skin. There is no emphasis on placing excessive tension on the skin. An incision is usually placed under the chin that allows removal of the muscle band in your neck. Removal of fat is also performed through this incision. Although there are always individualized modifications to these techniques, this deep plane facelift allows our plastic surgeon to consistently produce significant contour improvement in the cheek, jawline and neck.
If you do not have a significant amount of excess skin, you could be a good candidate for an endoscopic facelift. This minimally invasive procedure requires small incisions that are placed inconspicuously according to your individualized surgical plan.
When facial sagging in the cheek area is pronounced, a procedure called a mid-facelift may be performed. Incisions are often made inside the mouth as well as behind the hairline that provides superior access to the central cheek region.
The facelift is a complex procedure that requires intense concentration on even the minutest detail. In order to obtain natural-looking results, it is critical your surgeon not only possesses exceptional surgical skill but also has an artist's vision, making sure every tiny detail works together to form a beautiful whole. Our plastic surgeon has been performing the facelift procedure for Bay Area residents living in Mountain View, Los Altos, San Jose and more for many years. Dr. Ereso's artistic flair and dedication to perfection have given numerous patients rejuvenated, youthful-looking faces. He has proven he has the knowledge and expertise to help you attain your desired results.
Facelift Recovery
When surgery is complete, you'll be taken to a comfortable recovery area. A bandage may have been wrapped around your face to help control swelling. Sometimes, small drainage tubes are placed beneath the skin to drain away fluids that might otherwise accumulate. Discomfort is usually minimal, but any pain you feel can be controlled with medication. Although everyone heals at a different rate, you can expect that your recovery will follow this general time line:
The First Day
In this early stage of healing, you should rest with your head elevated and apply cold compresses to help minimize bruising and swelling.
Within the First 3-5 Days
Swelling reaches its peak, and then begins to subside. Iced compresses will be an essential part of your daily treatment.
Bandages will be removed, and by day 3 you may shower and wash your hair.
Most sutures will be removed.
You may return to light activity, but continue to sleep with your head elevated.
You can wear makeup to conceal any discoloration.
Within Two Weeks
Most of the bruising will disappear within seven to ten days.
You may resume many of your normal activities, including non-strenuous work.
After Several Weeks
You may resume exercise.
Swelling and puffiness will continue to subside.
Numbness in the facial area will diminish; however, some numbness may persist for several months.
Throughout the healing period, you should avoid exposure to direct sunlight. For the long term, use sun block to protect your skin.
Facelift Results
Our patients have been very pleased with their refreshed and rejuvenated appearance. Although the healing may take some time, you can expect the end results to be worth the wait.
A number of factors, including your heredity and your lifestyle, play a role in how long the results of your facelift will last. Even though the aging process continues, patients are usually very happy with their appearance for many, many years. Some patients find that they want to make additional improvements at a later time.
If you are contemplating a facelift procedure and you live in the San Jose Bay Area, contact Dr. Alexander Ereso, a facelift specialist with an artist's touch.