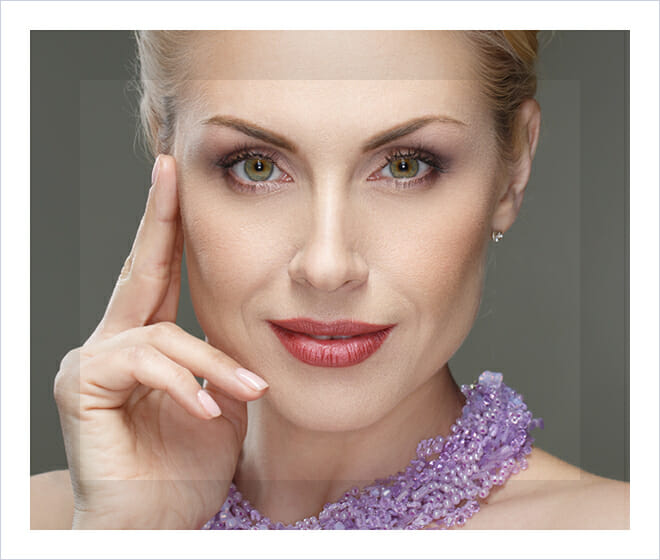 Serving Mountain View & the Bay Area
The contours of your face may be enhanced through a variety of cosmetic techniques. Chin augmentation (also called genioplasty or mentoplasty) strengthens the appearance of a receding chin by increasing its projection. Similarly, the cheekbones can be made fuller, creating a more sculpted look, using implants. Cheek and chin implants provide a permanent and predictable result. Sometimes fat injections are used in specific areas to restore a more youthful fullness to your face. Treatment with fat injections may need to be repeated to maintain improvement.
The goal of chin augmentation is to improve your profile by creating a better balance between your chin and other facial features. Increasing the projection of your chin will not affect your bite or jaw function. Dr. Alexander Ereso has performed cheek and chin augmentation using implants for patients from all over the San Jose Bay Area.

Ideal Augmentation Candidates
You may be a good candidate for cheek and chin augmentation if you have any of the following conditions:
A small chin and a large nose
A blunted or obtuse neck appearance
A flat-ended midface and cheekbone area below the eyes
Your Personal Consultation

Dr. Ereso will assess your physical and emotional health and discuss your specific cosmetic goals for cheek or chin augmentation surgery. Consultations are held at our Mountain View location. You should arrive at the consultation prepared to provide complete information about:
Previous surgeries
Past and present medical conditions
Treatments you have received
Medications that you are taking, including nutritional supplements and herbal remedies
Chin and Cheek Augmentation Procedures
There are two techniques for adding prominence and contour to your chin. One, performed through an incision inside the mouth, requires moving the chinbone (mandible). A more common approach to chin augmentation involves the insertion of a chin implant. The implant is inserted through incisions inside your mouth or on the underside of your chin. In the latter case, surgery usually leaves only a faint scar that is barely visible underneath the chin.
Augmentation of your cheekbones is achieved by placing specially designed cheek implants over them. The procedure usually is performed through an incision inside the mouth. Both cheek and chin implants are made of solid materials and will last for many years. They will not decompose or deflate! Implants can also be changed or removed at any time and they can be replaced if post-operative infection requires their removal. Facial implant design is continually being improved, offering a greater possibility of reaching your desired result.
Chin and Cheek Augmentation Recovery
To permit proper healing following chin augmentation, you may be placed on a liquid diet for a day or two. Your chin may be taped or bandaged.
After a chin or cheek augmentation, you will most likely be up and about the same day, but your activities will be restricted. You should be able to return to work within one week or less.
Avoid straining, bending and lifting during the early postoperative period. You may resume most of your normal activities within 10 days.
Chin and Cheek Augmentation Results
Our patients have been very pleased with their new appearance after cheek or chin augmentation. Although the healing may take some time, you can expect the end result to be worth the wait. Even though the aging process continues; the changes are long-lasting and patients are usually happy with their appearance for many years. Some patients may find that they want to make additional improvements at a later time.
Chin and cheek augmentation can be combined with facelift for optimal results.
We are proud to provide natural-looking results to patients from throughout the San Jose Bay Area who are interested in cheek and chin augmentation (genioplasty and mentoplasty). Please contact our practice to schedule a consultation.