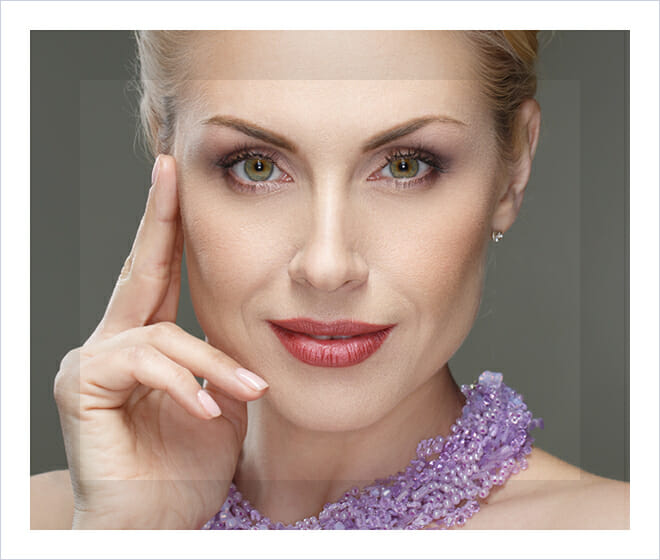 Serving Mountain View & the Bay Area
Our beautiful plastic surgery center in Mountain View specializes in brow lift procedures. A brow lift can give our San Jose Bay Area patients a younger, rejuvenated look, taking years of aging off the face in one procedure.
A brow lift, also called a forehead lift or eyebrow lift, corrects the skin wrinkling and loss of tone that causes sagging of eyebrows and hooding of upper eyelids. A brow lift softens the deep creases across your forehead. It reduces horizontal frown lines at the top of your nose and vertical lines between your brows. The result is a more relaxed and refreshed appearance. It is the only procedure that can increase the distance from the lateral brow to the upper eyelashes. To set up a consultation for a brow lift Bay Area residents should contact our plastic surgery center conveniently located in Mountain View.
Ideal Brow Lift Candidates
A brow lift can restore natural beauty and youthfulness to a face, but there are many things to consider before deciding on this procedure. To find out if you are a good candidate for a brow lift, call our plastic surgery center in Mountain View today. Our team of experienced professionals can guide you towards an informed decision.
A brow lift is often performed along with a facelift or other facial rejuvenation procedures. Some people have brow lifts to correct aging problems, while others have inherited traits that cause them to seek treatment in their 20s or 30s. You may be a good candidate for a brow lift if you have any of the following types of conditions:
If you have drooping lateral brows that are close to or below your orbital bony rim
If you feel you always look angry or scowling
If you like your appearance and your brows and eyelids when you pull up your forehead with your fingers at your hairline above your lateral brows
If you desire the ideal benefits of facial rejuvenation and you are already considering a face and neck lift
If you believe you could benefit from the facial rejuvenation effects of a brow lift, San Jose Bay Area residents can contact our plastic surgery center in nearby Mountain View.
Your Personal Brow Lift Consultation
A personal consultation is the first step. Dr. Ereso will assess your physical and emotional health and discuss your specific cosmetic goals for surgery.
You should arrive at the consultation prepared to provide complete information about:
Previous surgeries
Past and present medical conditions
Treatments you have received
Medications that you are taking, including nutritional supplements and herbal remedies
The Brow Lift Procedure
Many patients are good candidates for an endoscopic brow lift. The endoscopic brow lift is a minimally invasive technique that requires several small incisions in the scalp behind the hairline. The endoscope, inserted through these incisions, allows our plastic surgeon to modify or remove parts of the muscles that cause wrinkling and frown lines. Your lateral brows will be suspended with internal sutures placed behind your hairline.
For people with heavy brows, significant brow asymmetry, and deep forehead frowning, our surgeon never hesitates to use the traditional coronal brow lift. Incisions are hidden well behind the frontal hairline.
If you would like to discuss the possibility of an endoscopic brow lift, San Jose Bay Area residents can call our world-renowned plastic surgery center in Mountain View.
Brow Lift Recovery
After surgery, you will have temporary puffiness and discoloration that may involve your eyelid and cheek areas as well. You may experience numbness and itchiness of your scalp. You should be able to wash your hair in 3 days and be back to work within 7-10 days.
Brow Lift Results
Our patients have been very pleased with their refreshed and rejuvenated appearance. Although complete healing may take some time, you can expect the end results to be worth the wait.
A number of factors, including your heredity and your lifestyle, play a role in how long the results of your brow lift will last. Even though the aging process continues, patients are usually very happy with their appearance for many, many years. Some patients find that they want to make additional improvements at a later time.
To set up a consultation for a brow lift San Jose Bay Area residents can contact our private plastic surgery practice in Mountain View.