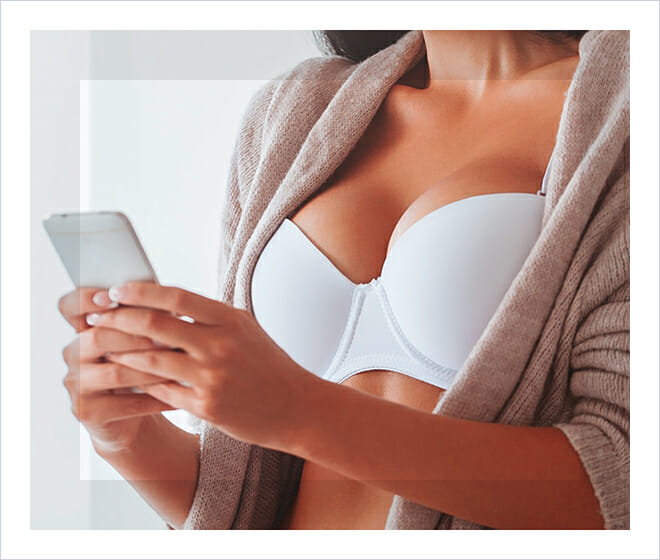 SERVING MOUNTAIN VIEW & THE BAY AREA
Composite Breast Augmentation – Breast Implants with Fat Grafting
Sometimes women achieve a good improvement in the size and shape of their breasts after implant placement, but the breasts still appear somewhat unnatural. The cleavage may be too wide or the lateral appearance of the breast seems a bit harsh. The upper pole of the breast may be not as full as the patient desires. Rippling and other abnormalities may also occur even if the implants are placed beneath the pectoral muscle. What is the solution to these difficult problems?
What about a Combination Procedure?
At the same time a breast augmentation is performed using an implant, you may consider adding fat grafting as a technique to improve any of the problems noted above. Why? Particularly in thin patients or patients with a wide, bony sternum, fat can be added to soften and narrow the cleavage, leaving a softer, more natural appearance. Fat can also be added to reduce the appearance of rippling, soften the lateral appearance of the breast, lower the fold of the breast or fill the upper pole of the breast. Fat grafting is a great adjunctive technique that can help change a good result to a fantastic result. It is essential to discuss these alternatives with Dr. Ereso before a traditional implant breast augmentation.
What about Fat Grafting Later?
This is a fabulous idea and can always be done at a later time if a traditional procedure did not fulfill your desires. Sometimes the hardest part of the procedure, especially in thin women, is to find enough fat to correct the problem! Remember that harvesting the fat is a cosmetic procedure as well and can significantly improve the appearance of other areas of your body at the same time as correcting your breast abnormality.
What about Difficult Problems That Are a Result of Previous Surgery?
There are literally millions of women that have had breast implants for a wide variety of reasons. Many secondary problems have resulted even from well-performed surgery. Fat grafting is a great tool that has been added to Dr. Ereso's treasure chest of ideas and techniques to help you achieve your desired result.
To learn more about composite breast augmentation, please contact our office to schedule a consultation.