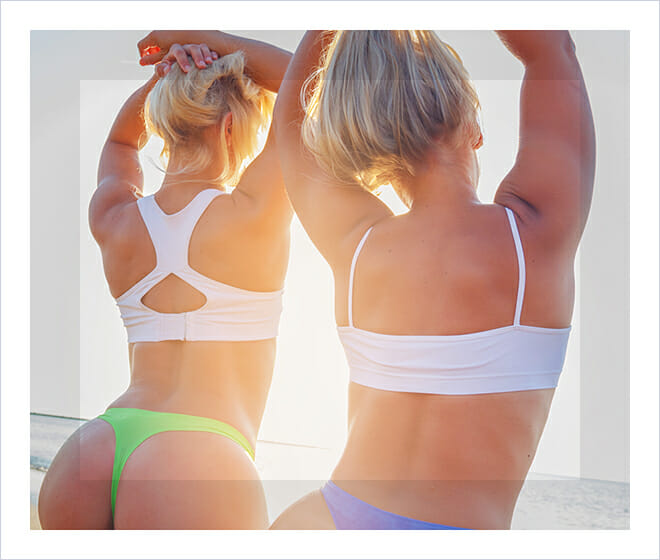 Serving Mountain View and the Bay Area
In well-selected patients, a lower body lift tightens the thighs and buttocks by removing the excess tissue from the lateral hip and inner thigh. A lower body lift can be modified and combined with an abdominoplasty (tummy tuck). To learn more about the benefits of a lower body lift, contact our Mountain View office.
Ideal Lower Body Lift Candidates
Lower body lift surgery is best suited to people who are in relatively good shape but have loose lower body skin and/or a significant amount of lower body fat that won't respond to dieting or exercise.
You may be a good candidate for lower body lift surgery if you have one or more of the following conditions:
Excess or loose, sagging lower body skin
Lower body muscles that have been weakened by pregnancy or aging
Excess fat that is concentrated beneath the lower body skin
If you plan to become pregnant or lose a significant amount of weight, you should discuss these plans with Dr. Ereso.
Your Personal Consultation
A personal consultation with Dr. Ereso is the first step. During the session, our plastic surgeon will assess your physical and emotional health, review your medical history, and discuss your specific cosmetic surgery goals. The consultation is also a good chance for patients coming from other parts of the San Jose Bay Area, to ask questions about lower body lift surgery and have them answered in person by our plastic surgeon.
You should arrive at the consultation prepared to provide complete information about:
Previous surgeries
Past and present medical conditions
Treatments you have received
Medications that you are taking, including nutritional supplements and herbal remedies
Technique
Dr. Ereso has been very influenced by the contributions of Dr. Ted Lockwood of Kansas City, and Dr. Jean-Francois Pascal of Lyon, France.
The Lower Body Lift Procedure
Usually, inner thigh lift incisions are extended anteriorly and laterally to the hip/flank area ending just above the buttock crease posteriorly. This is joined from the incision on the opposite side. After liposuction and separating the deep tissues from the underlying muscle, a generous portion of skin and subcutaneous tissue is removed, followed by deep and superficial skin closure. Several drains are usually placed to prevent fluid collection. Dressings may include light dressings or girdle-like pressure garments. You will stay at least overnight at the surgery center or hospital for careful monitoring prior to discharge.
Lower Body Lift Results
Lower body lift results are very gratifying to patients. Although the scars are long, they usually heal well. Occasionally, scar revisions are necessary to obtain the ideal result. Lower body lifting can dramatically tighten sagging thigh, hip, and buttock tissue. When performed in concert with abdominoplasty, it can nicely improve the appearance of the abdomen hips, flanks, buttocks, and upper lateral thighs.
Contact DR. ALEXANDER ERESO
The lower body lift procedure can be an exceptionally beneficial procedure for the right candidates. Dr. Alexander Ereso, who serves patients from his Mountain View office, has extensive lower body lift experience. Contact our practice today to schedule a consultation and learn more about the lower body lift procedure.