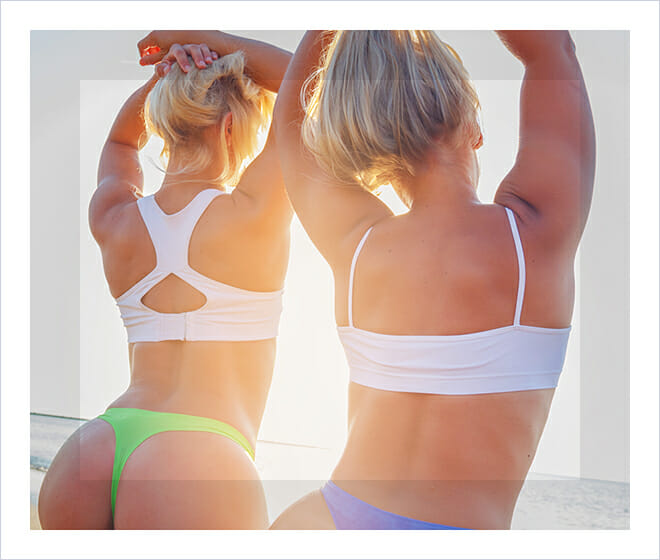 Also Serving the Bay Area and Mountain View
Looking and feeling good often means having a fit, well-proportioned body. This may seem like an unreachable goal for many people. A strict diet or disciplined exercise program often can't conquer stubborn areas of excess fat. Liposuction, a specialty at our Mountain View surgical center, may be the answer for those who seek a smoother or better-proportioned body contour.
Liposuction, also called lipoplasty or suction-assisted lipectomy (SAL), is a surgical procedure that removes deposits of excess fat from specific areas of the body, face, or neck. Liposuction can be used to slim the hips and thighs, flatten the abdomen, shape the calves and ankles or eliminate a double chin.
Can You Get Liposuction on Areas Other Than Your Stomach and Thighs?
Absolutely! Liposuction can be performed anywhere that you have fat deposits, including your chin, arms, back, hips, inner knee, calves, and more.
Ideal Liposuction Candidates
Liposuction is most commonly recommended for men and women of normal weight who simply want to improve their body contour. The procedure can produce excellent results for people who have deposits of excess fat that make certain body areas appear disproportionately large. Although liposuction is not a treatment for obesity, it can eliminate fat deposits that do not respond to diet and exercise.
People of almost any age may undergo liposuction; however, patients with good skin elasticity will achieve the smoothest contour after fat is removed. You may be a good candidate for liposuction if you desire fat removal or contouring in any of the following areas:
Chin and neck
Upper arms
Breast or chest area
Back
Abdomen and waist
Hips and buttocks
Thighs
Inner knee
Calves and ankles
Liposuction is not for everyone who desires to lose excess fat, but if you feel you are an ideal candidate for liposuction, contact our cosmetic plastic surgery center in Mountain View.
Your Personal Liposuction Consultation
A personal consultation with Dr. Alexander Ereso is the first step. Our plastic surgeon will assess your physical and emotional health, review your medical history and discuss your specific cosmetic goals for surgery.
Dr. Ereso has been performing liposuction for many years. He will discuss the details of a liposuction procedure as well as variations in techniques for optimum fat removal. He will cover the safety and success of the procedure as well as inform you of how you can do your part to minimize any risks.
Dr. Ereso has been performing liposuction for many years. Dr. Pearl stated, "It has been exciting to grow up with liposuction, adopting new techniques that work to constantly give me improved results."
The Liposuction Procedure
To perform liposuction, several small incisions are made near the area to be suctioned. Whenever possible, incisions are placed within the natural folds or contour lines of skin so that they are inconspicuous. The plastic surgeon then injects the areas to be suctioned with a solution of lidocaine and epinephrine, which decreases post-operative pain and significantly reduces the amount of bleeding during the liposuction procedure. This tumescent liposuction technique, used at our Mountain View facility for more than 10 years, enables our plastic surgeon to remove a greater volume of fat more safely. Next, Dr. Ereso places a slim, hollow tube called a cannula through the incision so that its tip penetrates the underlying fat. After the cannula is connected by flexible tubing to a suction pump, the plastic surgeon moves the cannula back and forth through the fat, which is vacuumed into the tube.
Several variations to the basic liposuction technique have been introduced. The fat-removal technique that best meets your needs depends on a number of individual factors that our plastic surgeon will discuss with you.
For example, ultrasound-assisted lipoplasty (UAL) is a two-step technique that uses the energy from sound waves to liquefy the fat before it is suctioned. Dr. Ereso believes that this liposuction method is particularly useful for dense adherent fat frequently seen in the flanks, upper abdomen, and male breast. It is not necessary to perform UAL on every patient.
The type of instrumentation used during liposuction may also vary. For some areas, a handheld syringe may be used to provide the vacuum instead of a suction pump. Sometimes power-assisted liposuction (PAL) is performed utilizing a motor to move the cannula back and forth.
Dr. Ereso always employs the most advanced, scar-minimizing techniques known to the medical community. If you are considering liposuction, contact Dr. Ereso at his Mountain View practice.
Recovery from Liposuction
When the procedure is complete, you will be taken to the recovery area on-site at our cosmetic plastic surgery facility in tranquil Mountain View. Any discomfort you may feel can be controlled with medication prescribed by your plastic surgeon. A specially designed compression garment will be applied over the treated areas to control swelling and assist healing. Dr. Ereso believes that wearing the garment allows more rapid shrinkage of your overlying skin after the liposuction procedure. He will ask you to wear it day and night for 1 week and most of the time for the 2nd week. From weeks 2 to 6 after surgery, he will ask you to wear the garment when you are exercising or performing any strenuous physical activity.
Shortly after surgery, you will be encouraged to get out of bed and slowly increase your activity. Keep in mind that the speed of your recovery depends largely on the extent of your surgery. Although everyone heals at a different rate, you can expect that your recovery will follow this general timeline:
Within the first week
The swelling will reach its peak and then begin to subside
Your sutures will be removed
You may return to non-strenuous work
After several weeks
Bruises will fade and eventually disappear
Areas that felt numb will regain normal sensation
You may resume most of your normal exercise and activities
Swelling will continue to subside
Liposuction Results
Quite soon after liposuction surgery, you will see a noticeable difference in the shape of your body. However, improvement will become even more apparent after a couple of months, when fluid retention and swelling have subsided. For most patients, approximately 90 percent of the final result is evident after about three months.
After your liposuction surgery, you may notice that clothes fit more comfortably, and you feel more confident about your appearance. As long as you maintain your post-operative weight, your new slimmer contour will be permanent. Many patients who gain a few pounds after liposuction surgery find that the weight distributes itself more evenly and does not settle in the same "problem areas."
As with any cosmetic procedure, it is important to seek the skill of an experienced plastic surgeon in order to obtain optimal results. Dr. Ereso has been performing liposuction and other body contouring procedures at his cosmetic plastic surgery practice in Mountain View for many years. His exceptional experience and dedication to your ideal body are unsurpassed. Our plastic surgeon has the knowledge, skill, and ability to achieve the results you deserve.